I've got yellow dresses on the brain.
Have you ever become obsessed with something after seeing numerous options and gorgeous photos on Pinterest?
You know what I'm talking about…PINTEREST PROBLEMS.
Guys. I have become seriously obsessed with yellow dresses since spotting a few especially delectable numbers (such as the few shown below) on Pinterest.
Now, every where I look, I see yellow dresses lurking, begging me to purchase them and wear them every day of summer.
Here are some of the gorgeous sunshiny options I've spotted from around the world wide web
http://www.necessaryclothing.com
$33
This simple and flattering option is cheap and would be so easy to dress up or down.
http://www.necessaryclothing.com
$30
Love the layered look. The back is pretty cute too!
Glamorous Neon Skater Dress with Open Back
http://asos.com
$55
That back though (sighhhh!). Perfect with a summer tan.
Oh My Love Textured Skater Dress with Cut Out Detail
http://asos.com
$60
Super bright and fantastic cut outs??? Yes please!
http://nastygal.com
$58
A pretty floral pattern and yellow makes for love at first sight.
http://nastygal.com
$68
Maxi's are perfect summer wear. The cutouts give it a little edge that would make it the perfect transition from day to night wear!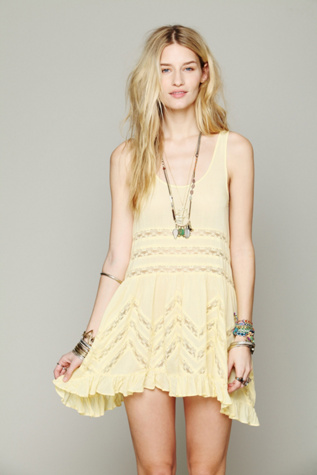 http://freepeople.com
$88
A little spendy, but I have a few of these and let me tell you, you will never want to take it off. One of the best purchases I have made…now only if I owned the yellow…
Fit and Flare Floral Lace Dress
http://forever21.com
$20
This sunny little number has rave reviews online and for that price it's the perfect thrifty option to fill your craving!
Options 1 and 5 are what I'm leaning towards.
What one do you wish was in your closet this summer??